DOI
Abstract
DOI
John Guille Millais reported in his 1899 biography of his famous father, John Everett Millais, that The North-West Passage (1874) was "perhaps the most popular of all Millais' paintings at the time". The picture's adoptive subtitle—"It might be done, and England should to do it", purportedly uttered by the aged sailor in the painting—captured the patriotic zeal for the British Arctic Expedition of 1875–1876, rather than the past glories (and tragedies) of the British quest to traverse the Northwest Passage. "It" in this motto looks ahead to the planting of the British flag at the North Pole and to the treatment of the Arctic in contemporary art. Looking closely at this complex painting and its surrounding discourses in the Victorian period and in related works from our own time, I argue that The North-West Passage was and remains a "metapicture" that distilled speculation on Arctic voyaging from the Anglosphere in the 1870s and does so again today.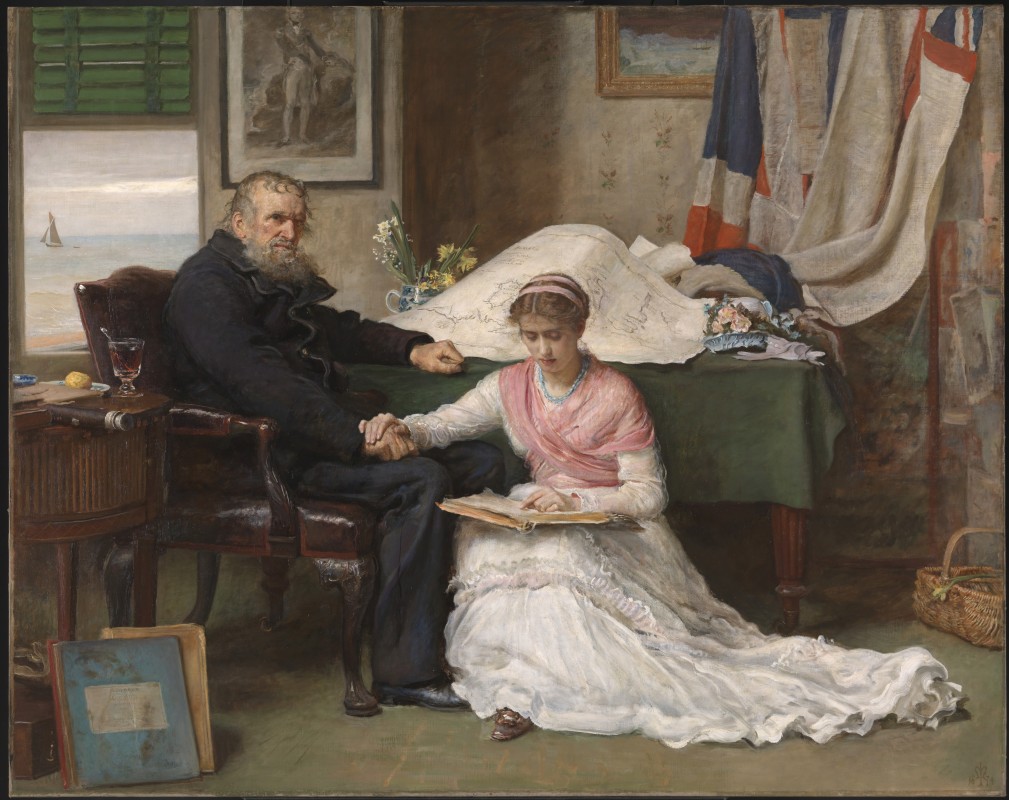 DOI
Nares returned from the Arctic in 1876, having over-wintered there but ultimately aborted the expedition because of widespread scurvy among the crews of his two ships. A sledging excursion achieved a "furthest north" record (83˚20′), for which there had long been a reward, but they did not reach the pole. Nares' early return encouraged journalists to comment on both The North-West Passage and the British Arctic Expedition. Exhibition and expedition were again elided. The Royal Cornwall Gazette of 4 November 1876 boldly laid out the comparison: "By art, by literature, by oratory … England has for years been stirred on to do this thing, 'It can be done, and England ought to do it.'" Recent history summarized, the writer cannot resist continuing, "The new variation of Mr. Millais' picture is 'It can't be done; England has failed'", which is followed by a rant about what science still did not know about the North Pole. In a memorable final flourish, we are told that the ultimate barrier is climate: "The temperature of the Arctic regions forbids our curiosity."38 The negative tone is not unexpected. Arctic expeditions in search of both the Northwest Passage and the North Pole had been controversial since Martin Frobisher's elaborate, brutal, and failed attempts to find gold and establish a colony on Nunavut (Baffin Island) in 1576, 1577, and 1578.39 While northerly voyages from Britain proliferated soon after the 1815 victory over Napoleon, which were led for four decades by the indefatigable John Barrow, 2nd Secretary of the Admiralty (1764–1848), there was perennial opposition to the human and financial costs, not least because the passage was no longer seen as an economic boon. John Franklin's third voyage to the Arctic (1845) was supposed to be the last and best.40 Instead, his disappearance greatly multiplied naval and private recovery missions from Britain from 1848 on (including McClure's, as we have seen) and, increasingly, the United States. Scientific research was a prime motivation for these ventures in the nineteenth century, even when finding Franklin was the official remit. The British Arctic Expedition was fully consistent with these long-held aims, which are in turn an important component of nationalist pride.41 Amidst accusations of failure, Nares was knighted by Queen Victoria in 1876.
DOI
Towards the Present
DOI
The North-West Passage crystallized the cultures of nineteenth-century Arctic voyaging from Britain in objects and narratives. My reconstruction of central cultural contexts of Arctic excursions in Millais's picture plots this density of image and text temporally. Also crucial to my understanding of a metapicture is its resonance in the present. Today, the Arctic is the site of the most rapid climate change on the planet, underling the urgency and precarity of an epoch widely called the Anthropocene, when human activity has become an environmental force at least equal to nature.42 While the effects of climate change are planetary, both its causes and potential ameliorations tend to be state-oriented, as were the official Arctic expeditions of Millais's time and before. The imperative to plant a national flag at the North Pole is a case in point. If one thinks—or hopes—that such aggressive claiming rituals are in humanity's past, recall Robert Peary and Matthew Henson's declaration in 1909 that they were first to the North Pole, an achievement that is still disputed, or Buzz Aldrin and Neil Armstrong from Apollo 11, bouncing on the lunar surface as they planted the Stars & Stripes in July, 1969 (recently photographed from space, still standing), or Russia's geopolitically provocative, robot-assisted flag planting on the seabed to arrogate the geographic North Pole in 2007.43 From Millais's time to ours, sovereignty—whether Indigenous or colonial—has climate change implications for all beings and territories. We can explore the gaps and connections between Millais's painting and understandings of the Arctic today through three potent examples that demonstrate the cycles of Arctic voyage and return articulated in Millais's painting. The first is a photograph taken at the North Pole in 1909 as the culmination of the expedition by Robert Peary, Matthew Henson, and their Inuit guides, Ootah, Egigingwah, Seegloo, and Ooqueah. British artist Isaac Julien's film True North (2004) reflects on Henson's relationships with Peary and the Arctic as a black man who—along with the Inuit—for decades disappeared into the "whiteness" of the narrative of accessing the North Pole. Finally, Inuk Jobie Weetaluktuk's film InukShop (2009), decries the commercialization and uprooting of Inuit art that is one outcome of the legacies explored by both Millais and Julien.
DOI
A victorious image taken by Admiral Robert E. Peary is labelled "Photograph of the Robert Peary Sledge Party Posing with Flags at the North Pole, 04/07/1909". Its long caption is germane to the discussion of flags in the Millais painting: "Ooqueh, holding the Navy League flag; Ootah, holding the D.K.E. fraternity flag; Matthew Henson, holding the polar flag; Egingwah, holding the D.A.R. peace flag; and Seeglo, holding the Red Cross flag" (Fig. 10). Flags are the focus of several of Peary's photographs from his final excursion in search of the North Pole. He shows them being carried towards the site across flat terrain, multiple as here, or with a single banner decisively lodged atop the pyramidal ice form that powerfully structures these hierarchical images. This image was taken the morning after the supposed discovery on 6 April 1909 described below. Peary has presented the five men who made the final push to what they thought was the Pole on a theatrical Olympic dais. While geographers now believe that navigational errors placed them some 50–100 kilometres short of their destination—just one of a legion of intrigues surrounding Peary and Henson's seventh Arctic expedition in twenty-three years, including the competition with fellow American explorer Frederick Cook—it is again the image culture of attaining victory (if not literally staking land, since they were on sea ice), that makes this photograph part of the legacy of Millais's The North-West Passage and the British Arctic Expedition of 1875.44 That Peary posed his loyal and Inuktitut-speaking assistant, Matthew Henson, at the top of his victory triangle in this photograph is both accurate and ironic, given that Henson later maintained that he went ahead and was the first to reach the Pole, which alienated the irascible Peary. We also have Henson's account from 1912 of the importance of the flags:
When we halted on April 6, 1909, and started to build the igloos, … I noticed Commander Peary at work unloading his sledge and unpacking several bundles of equipment. He pulled out from under his kooletah (thick, fur outer-garment) a small folded package and unfolded it. I recognized his old silk flag … He fastened the flag to a staff and planted it firmly on the top of his igloo … The stars and stripes were "nailed to the Pole".45
Henson waxes further,
A thrill of patriotism ran through me and I raised my voice to cheer the starry emblem of my native land … This was a thin silk flag that Commander Peary had carried on all of his Arctic journeys, and he had always flown it at his last camps. It was as glorious and as inspiring a banner as any battle-scarred, blood-stained standard of the world.46
DOI
Hierarchy cuts in several directions in Peary's triumphant photograph. Henson was as aware of race at the Pole as he was of the competition to claim it. He was temporarily given pride of place here, but he also "knew his place" and internalized it vis-à-vis Peary and white people generally:
The Commander gave the word, "We will plant the stars and stripes at the North Pole!" and it was done; on the peak of a huge paleocrystic floeberg the glorious banner was unfurled to the breeze, and as it snapped and crackled with the wind, I felt a savage joy and exultation. Another world's accomplishment was done and finished, and as in the past, from the beginning of history, wherever the world's work was done by a white man, he had been accompanied by a colored man. From the building of the pyramids and the journey to the Cross, to the discovery of the new world and the discovery of the North Pole, the Negro had been the faithful and constant companion of the Caucasian, and felt all that it was possible for me to feel, that it was I, a lowly member of my race, who had been chosen by fate to represent it, at this, almost the last of the world's great work.47
While racism is unacknowledged in Millais's painting, it was blatant in the narratives of the Arctic that the painting enfolds. Prejudice against the Inuit was paraded loudly and publicly by Wilkie Collins and Charles Dickens at the apex of the search for Franklin in the mid-nineteenth century. Collins' much-acclaimed play The Frozen Deep (1856)—co-written, directed, and starred in by Dickens—was performed for Queen Victoria and Prince Albert in July 1857. The play sought to discredit Hudson's Bay Company Scottish explorer John Rae's circulation of Inuit testimony about cannibalism during what was revealed as the death march south by surviving members of the Franklin expedition. To make a long and complex story short, Dickens—a self-proclaimed expert on cannibalism—refused to believe Rae's witnesses, labelling them untruthful savages.48
DOI
The remarkable story of Matthew Henson and his Inuit collaborators on the Peary quest—Ootah, Egigingwah, Seegloo, and Ooqueah—motivates Isaac Julien's True North (2004), a three-channel film and series of still images that revise received notions of race at the North Pole (Fig. 11). As Millais did in his masterly metapainting, Julien threads the implications of the past, present, and the future through imagined Arctic landscapes. Filming in Iceland and northern Sweden, Julien has Black British actor Vanessa Myrie stand in for Henson as s/he wanders through a sublime, frozen landscape (Fig. 12). The narration quotes Peary, Henson, and a book about Henson; Inuit chanting is heard. For Julien, substitutions of person and place create a break with the stereotypical narrative of the conquering, white Arctic explorer (though some of Peary's quite violent statements are heard), a fissure for our critical understanding of both race and the environment in this region. As Julien states,
you have an African-American [Henson] who is forging this journey into the sublime, into blankness, into whiteness, and almost into a certain disappearing-ness because Henson disappears from history. [And you have the] incongruousness that one may associate with this particular ecological landscape and the way that this subject is … a subject that wouldn't be considered an authentic part of that landscape. In a way, it is about trying to re-position grand narratives to obfuscate or obscure those histories that have taken place. And, of course, the reason that people want to go to these far away spaces and conditions has a certain colonial aspect to it.49
Inspired by Lisa Bloom's ground-breaking book Gender on Ice and Paul Gilroy's influential writing on the "Black Atlantic", Julien reimagines the import of gender and race in Arctic and colonialist journeying generally.50 Bloom, in turn, describes this film as "a cinematic rewriting of the North Pole exploration narratives of the early 20th century", including both Henson's and Peary's.51
DOI
Henson represents himself in the long passage above as being both subject to racial hierarchies and, sadly, as one who reinforces them. His "savage joy" at reaching the Pole (before Peary) inverts Dickens' and Collins' use of "savage" as an insult in The Frozen Deep and related texts. Yet, he is as condescendingly grateful to his adult Inuk "boys" as Peary ultimately is to him as a black man that he calls his "manservant". Silences and elisions remain in True North. For example, no one mentions that Peary hired many Inuit, including unnamed women and children, to support this trek to the pole. Their traditional livelihood and culture already much disturbed by Anglo and Danish incursions in Greenland and the Canadian Arctic, it is worth recalling that the North Pole was of no practical interest to people living on this land. Exploration for glory was a foreign practice. Julien's complex, three-screen presentation in True North explores and conveys to viewers the complexity of Henson's relations with Indigenous northerners. We never see Peary. Instead, Henson/Myrie is shown at a distance, walking across an expanse of snow and ice, and also in a close-up, "Henson" in the middle, framed by two Inuit companions. The effect of both landscape and portrait is at once highly specific and somewhat dreamlike. We see the people and place clearly, but what are they doing there?
DOI
That is not a question one would ask of InukShop, Jobie Weetaluktuk's film from 2009 (Fig. 13) . This short but purposeful work draws a stark contrast between traditional life on the land and the reproduction of these activities in carvings destined for the global art market. In the film—and, arguably, in art generally—Inuit life is thus deracinated, made inauthentically portable as it accommodates to markets in the South. "For Indigenous peoples, language and culture are rooted in the land," write the co-authors of a recent exhibition on circumpolar art, Among All These Tundras.
Knowledge is place-based, embodied, and interrelational. This worldview, and the artistic practices based in it, has become politicized by settler colonialism, which is characterized by a historical and ongoing dispossession of Indigenous peoples from their lands. Decolonial thought and aesthetics, therefore, must also centre on the land.52
In InukShop, we see traditional activities of living from the land that survives but is increasingly threatened. As in the other artworks considered here, the past, present, and future are intertwined. The film opens with close-ups of the feet of a large, seemingly new inukshuk, an example of the anthropomorphic rock "sculptures" that Inuit had placed across the Arctic for centuries to aid in wayfaring, hunting caribou, and to mark food caches. Weetaluktuk soon contrasts this recent example with long-standing correlates in Arctic landscapes and with scenes that alternate between Inuit ceremonies and hunting (thus displaying Qaujimajatuqangit: "Inuit traditional knowledge") and the sculptures that reproduce these activities. Some are exquisite handworks in themselves; others show commercially produced inuksuit (pl. of inukshuk) trapped inside tourist snow globes. For the hunting and ceremonial scenes, he uses archival film, making the inuksuit on the land seem ancient (as many are). "Shop" in the film's title cuts two ways: it makes reference to an artist's workshop and to the activity of shopping. Near the end of the two-minute film, we view clichéd, miniaturized inuksuit for sale as tourist ware, with "Canada" announced on small plaques. These mass-produced trinkets are displayed as part of a confusing array of "native" knick-knacks; they sell for $5.99. The reduction and proliferation of these degraded objects is coincident with the 2010 Winter Olympics in Vancouver, Canada, which adopted the inukshuk as its logo, a symbol now of Canada, not the Arctic, broadcast to the world.53 By criticizing commercialization, Weetaluktuk telescopes the effects of European modernity on the Inuit. Western technologies, religion, community settlements, a cash economy, and worst of all, residential school "education" were incrementally forced on these peoples from the sixteenth century through the twentieth century.54 As Weetaluktuk reminds us in this film, the legacy continues. His closing shot returns us to his opening locale, now identifiably the city of Montreal, where the artist lives. The large, beautifully made inukshuk that we saw at the outset—by Jusipi Nalukturuk (1992) and owned by the McCord Museum—is rendered small by a glass skyscraper. People hurry past, not noticing the monument. Even this large inukshuk has become a consumable and almost invisible. Where we heard birds in the opening images of this work—as if to proclaim its heritage on the land—here we are overwhelmed by a wash of traffic noise. The inukshuk now marks only the displacements of Inuit culture under colonialism.
DOI
I have claimed that Millais's The North-West Passage is a metapicture and imagetext that demands our attention today because it continues to encapsulate colonial paradigms of the Arctic, the assumptions and conditions of exploration, masculinist heroism, Western mapping, disregard of the environment, and flag planting that—broadly speaking—led to the spiral of commercialization and attendant exploitation that we witness in InukShop. Julien surprises us by staging a little-known and revisionary depiction of race relations in the Arctic. Weetaluktuk mixes markers of Inuit tradition and Western modernity to describe a still-colonialist present. Both InukShop and Julien's True North implore us ponder the nineteenth-century roots of troubles that live on today in this region. Whether or not these films can interrupt the control of the ideologies apparent in The North-West Passage remains an open and urgent question.
DOI
Acknowledgements
DOI
I am grateful to the Social Sciences and Humanities Research Council of Canada for ongoing research support and to BAS's editors and two anonymous readers for their generous and constructive responses to this article. My ideas emerged from two contexts that I would like to acknowledge by thanking my interlocutors at the Jackman Humanities Institute, University of Toronto, with whom I shared a residential fellowship in 2019–2020. Special thanks to Julia Lum and to my colleague Jordan Bear.
About the author
Mark A. Cheetham is a professor of art history at the University of Toronto. Author of eleven books and volumes, and numerous articles on topics ranging from Immanuel Kant and Art History to Abstract Art to Postmodernism, he is a Guggenheim Fellow and a Fellow of the Royal Society of Canada. His book Landscape into Eco Art: Articulations of Nature since the '60s was published by Penn State University Press in 2018. He curated the exhibition Struck by Likening: The Power & Pleasure of Artworld Analogies at the McMaster University Museum of Art in 2017.
Bibliography
Anon. (n.d.) Millais.org, see http://www.millais.org/north-west-passage/. Accessed 16 May 2020.
Black, George (n.d.) Journal d'observation des aurores boréales de Sir George Black. Musée McCord, M2634, http://collections.musee-mccord.qc.ca/fr/collection/artefacts/M2634. Accessed 19 May 2020.
Bloom, Lisa (1993) Gender on Ice: American Ideologies of Polar Expeditions. Minneapolis, MN: University of Minnesota Press.
Bloom, Lisa (2006) "True North: Isaac Julien's Aesthetic Wager". In Viet Görner and Evaline Bernasconi (eds), Isaac Julien: True North. Fantôme Afrique, exhibition catalogue. Hannover: Kestnergesellshaft, 42–45.
Blum, Hester (2019) The News at the Ends of the Earth: The Print Culture of Polar Exploration. Durham, NC: Duke University Press.
Bury, Laurent (2016) "A Certain 'Want of Arch-Inscape'? The Critical Reception of Millais's North-West Passage (1874)". In Frédéric Regard (ed.), Arctic Exploration in the Nineteenth Century: Discovering the Northwest Passage. New York: Routledge, 171–183.
Carroll, Siobhan (2015) An Empire of Air and Water: Uncolonizable Space in the British Imagination, 1750–1850. Philadelphia, PA: Penn Press.
Condon, Richard G. (1989) "The History and Development of Arctic Photography". Arctic Anthropology 26, no. 1: 46–87.
Cheetham, Mark A. (2012) Artwriting, Nation, and Cosmopolitanism in Britain: The "Englishness" of English Art Theory since the Eighteenth Century. New York: Routledge.
Cheetham, Mark A. (2018) Landscape into Eco Art: Articulations of Nature since the '60s. University Park, PA: Penn State University Press.
Craciun, Adriana (2016) Writing Arctic Disaster: Authorship and Exploration. Cambridge: Cambridge University Press.
Davis-Fisch Heather (2012) Loss and Cultural Remains in Performance: The Ghosts of the Franklin Expedition. New York: Palgrave Macmillan.
Gilroy, Paul (1995) The Black Atlantic: Modernity and Double-Consciousness. Cambridge, MA: Harvard University Press.
The Graphic (1876) "Pole Impracticable". 4 November.
The Hampshire Advertiser County Newspaper (1876) 20 December.
Hedin, Gry and Gremaud, Ann-Sofie N. (eds) (2018) Artistic Visions of the Anthropocene North: Climate Change and Nature in Art. New York: Routledge.
Henderson, Bruce (2009) "Who Discovered the North Pole?" Smithsonian Magazine, April, https://www.smithsonianmag.com/history/who-discovered-the-north-pole-116633746/. Accessed 27 May 2020.
Henson, Matthew (1912) A Negro Explorer at the North Pole. New York: Frederick A. Stokes Co.
Heuer, Christopher P. (2019) Into the White: The Renaissance Arctic and the End of the Image. Cambridge, MA: MIT Press Zone Books.
Hill, Jen (2008) White Horizon: The Arctic in the Nineteenth-Century British Imagination. Albany, NY: State University of New York Press.
Igloliorte, Heather L., Prouty, Amy, and Harringa, Charissa von (2018) Among All These Tundras. Montreal: Leonard & Bina Ellen Art Gallery.
Jayasena, Nalin (2007) Contested Masculinities: Crises in Colonial Male Identity from Joseph Conrad to Satyajit Ray. New York: Routledge.
Julien, Isaac (dir.) (2004) True North.
Kunuk, Zacharias and Cohn, Norman (dir.) (2006) The Journals of Knud Rasmussen. Isuma TV.
Leeds Mercury (1874) 21 August.
Levere, Trevor H. (1993) Science and the Canadian Arctic. New York: Cambridge University Press.
Mrs Lang [sic] (1898) In Walter Armstrong and W. Cosmo Monkhouse, Presidents of the Royal Academy: Sir E.J. Poynter, Sir J.E. Millais, Lord Leighton. London: Art Journal Office, 18.
McClure, Robert (1856) The Discovery of the North-West passage by H.M.S. "Investigator", Capt. R. M'Clure, 1850, 1851, 1852, 1853, 1854, edited by artist, mapmaker, and later rear admiral Sherard Osborn, 1st edn. London: Longman, Brown, Green, Longman & Roberts.
MacLeod, Roy (2000) "Nature and Empire: Science and the Colonial Enterprise". Osiris 15: 1–13.
McMaster, Gerald and Hessel, Ingo (co-curators) (2010) Inuit Modern, Exhibition catalogue. Toronto: Art Gallery of Ontario.
Mancoff, Debra N. (ed.) (2001) John Everett Millais: Beyond the Pre-Raphaelite Brotherhood. New Haven, CT: Yale University Press.
Millais, John Guille (1899) The Life and Letters of Sir John Everett Millais, President of the Royal Academy / by his Son, John Guille Millais, with 319 Illustrations Including Nine Photogravures. New York: Frederick A. Stokes Company.
Mitchell, W.J.T. (1994) Picture Theory: Essays on Verbal and Visual Representation. Chicago, IL: University of Chicago Press.
Morgan, Benjamin (2016) "After the Arctic Sublime". New Literary History 47, no. 1 (Winter): 1–26.
Moss, Edward L. (1878) Shores of the Polar Sea: A Narrative of the Arctic Expedition of 1875–6. London: Marcus Ward & Co.
Nares, George S. (1878) Narrative of a Voyage to the Polar Sea during 1875–6 in H.M. Ships Alert and Discovery. London: S. Low, Marston, Searle, and Rivington.
Pall Mall Gazette (1874) 19 November, 3.
Potter, Russell A. (2007) Arctic Spectacles: The Frozen North and Visual Culture, 1818–1875. Montreal: McGill-Queen's University Press.
Potter, Russell A. (2016) Finding Franklin: The Untold Story of a 165-Year Search. Montreal: McGill-Queen's University Press.
Roach, Catherine (2016) Pictures-Within-Pictures in Nineteenth-Century Britain. Abingdon: Routledge.
Riding, Christine (2006) John Everett Millais. London: Tate.
Rosenfeld, Jason and Smith, Alison (2007) Millais, exhibition catalogue. London: Tate.
Royal Cornwall Gazette (1876) 4 November.
Steinberg, Philip E., Tasch, Jeremy, Gerhardt, Hannes, Keul, Adam, and Nyman, Elizabeth A. (eds) (2015) Contesting the Arctic: Politics and Imaginaries in the Circumpolar North. London: I.B. Tauris.
Stone, Ian R. (1986) "'The North-West Passage' by Sir John Millais". Polar Record 23, no. 142: 81–84.
Taubman, Lara (2005) "True North: Interview with Isaac Julien". S&F Online, 1 July, http://sfonline.barnard.edu/ice/gallery/julien.htm. Accessed 25 May 2020.
Walker, John (dir.) (2008) Passage. http://johnwalkerproductions.com/portfolio/passage/.
Watchman and Wesleyan Advertiser (1874) 26 August.
Weetaluktuk, Jobie (dir.) (2009) InukShop. https://www.nfb.ca/film/vistas_inukshop_en/.
Imprint
Author
Date

26 February 2021
Category
Review status

Peer Reviewed (Double Blind)
Licence
Downloads
Cite as

Mark A. Cheetham, "Millais's Metapicture: The North-West Passage as Distillate of Arctic Voyaging from the Anglosphere", British Art Studies, Issue 19, https://doi.org/10.17658/issn.2058-5462/issue-19/mcheetham