DOI
Abstract
DOI
This paper describes a collaborative technical and art-historical study by a conservation scientist and an art historian of paintings by Mark Gertler (1891–1939) produced between 1911 and 1918, sparked by the discovery through X-radiography of a painted sketch for his masterwork Merry-Go-Round (1916).1 Paintings were chosen to demonstrate Gertler's experiments with diverse painting styles and influences ranging from Renaissance art through post-Impressionism to early European modernism; these were investigated in a technical study together with comparative contemporaneous written sources that provide commentary on the artist's painting practices. Technical examination has shown how Gertler frequently reused his supports and has revealed changes to his paintings, sometimes supported by commentary. The study highlights the relationship between intention and practice in this period of critical change in Gertler's work, providing insights into his stylistic and technical development.
DOI
Introduction
DOI
This technical and art-historical study of nine early paintings by the British artist Mark Gertler (1891–1939) made between 1911 and 1918 has led to new discoveries of the artist's working practices during a period of profound stylistic development in his painted works. Talmudic Discussion (Fig. 1), Rabbi and Grandchild (Fig. 2), Family Group (Fig. 3), Fruit Sorters (Fig. 4), The Creation of Eve (Fig. 5), The Pond, Garsington (Fig. 6), The Pond at Garsington, Oxford (Fig. 7), Gilbert Cannan and his Mill (Fig. 8), and Still Life with Self-portrait (Fig. 9) have all been chosen both to illustrate Gertler's most fluid and intense period of artistic development and to highlight his exploration of the different painting styles and processes that chart his journey into the modern. In the first part of this paper, a number of paintings are discussed in detail in relation to these findings, while in the latter, a number of technical observations have been grouped together to give an overview of Gertler's "making" in this period.
DOI
This project was initiated several years ago by a request from Matthew Travers, director of Piano Nobile Gallery, to X-ray Gertler's The Pond, Garsington (1916), a landscape on panel recently acquired at auction. Even prior to technical examination, a series of radial deformations resembling the spokes of an opened umbrella were clearly visible to the naked eye on the surface of the painting, suggesting that there might be another image beneath. With the panel turned portrait-wise, the resulting X-ray revealed an underpainting of a carousel with rudimentary horses running around its base (Fig. 10). This was identified by the authors as a previously unknown preparatory oil study for Gertler's masterpiece, Merry-Go-Round, painted at the height of the First World War and considered his most outstanding contribution to early British modernism (Fig. 11). As the only preliminary study of the carousel, this discovery is of particular importance. The reverse of the panel also contains a third image: a preparatory study of the writer Gilbert Cannan for the celebrated painting Gilbert Cannan and his Mill (1916); both discoveries are discussed in greater detail later in this paper.
DOI
Given the size and complexity of the final Merry-Go-Round painting and the fact that X-radiography revealed only minimal changes to the finished canvas, it seemed highly likely to the authors that Gertler would have made further interim studies.2 An initial investigation of works completed in the period of the painting's gestation (1915–1916) followed, including Gilbert Cannan and his Mill and Daffodils (1916).3 Although no further Merry-Go-Round compositions were discovered, the investigation of Gilbert Cannan and his Mill did reveal an underpainting showing changes in both composition and reuse of the painting support. This led to the current research project in which a study of written sources (primarily letters) between Gertler and his artist contemporaries exploring Gertler's compositional development and working methods was made alongside first-hand technical study including X-radiography, infrared imaging, and pigment analysis to uncover his painting processes and materials. The technical themes discussed here address the question of whether changes in Gertler's painting style were paralleled by changes in his painting materials and techniques. Personal circumstances including his poverty, ethnicity, and class are also considered together with the influence of past and contemporaneous art. By examining aspects of the underlying compositions, reuse of the painting support, and the changes made during the painting process, this study aims to deepen the understanding of Gertler's wider modernist practice.
DOI
A Career in Formation
DOI
Mark Gertler was born in 1891 in a slum lodging house in Spitalfields in London's East End to Jewish immigrant parents, economic migrants who had left their native Galicia (then a province within the Austro-Hungarian Empire boasting the highest death rate and lowest life expectancy in Europe), in search of a better life in England. Like the other so-called "Whitechapel Boys" of his generation (including primarily, David Bomberg, Isaac Rosenberg, and by association, Jacob Kramer and Bernard Meninsky), Gertler was the direct descendant of a shared Eastern-European Jewish heritage, part of a larger wave of mass Jewish migration that between 1880 and 1910 brought some 120,000 newcomers to Britain, where they joined established Jewish communities in the cities of London, Leeds, Liverpool, and Birmingham. Less than a year after his birth, however, during an economic downturn, the Gertler family was repatriated by the Jewish Board of Guardians to Przemyśl, "with only me, as it were," the artist later wrote, "to show for it."4 After his father left to seek work in America, the family lived on the edge of starvation for four years until they returned to England and were reunited in Spitalfields, less than a mile from where he had been born.
DOI
Gertler was old enough to recall the return journey, travelling steerage, the emigrants packed like cargo in the dark, airless hold of the ship on a voyage lasting several weeks. He claimed to remember nothing of his time in Austria, and upon arrival identified strongly with England and subsequently, the Jewish East End, describing himself as "Essentially […] a child of the ghetto."5 His struggles to assimilate into the middle- and upper-class society into which his talent and profession propelled him led to a conflict over his identity and a lingering sense of displacement that runs like a thread through his life and work, informing both his portraits of his own family and the Jewish community and his highly personal, and sometimes ambivalent, engagement with modernism. As Juliet Steyn has suggested, Gertler's early Jewish paintings can be "Understood perhaps, as a sign of a struggle between identification with Jewish selfhood and alienation from it."6
DOI
Gertler nurtured artistic ambitions from an early age. He trained first at the Regent Street Polytechnic (1906–1908), attending lectures on the Old Masters and "haunting" the rooms of the National Gallery, crafting his earliest paintings in their image. In the second year, he took evening classes, while unhappily apprenticed by day to Clayton & Bell, stained-glass makers next door in Regent Street.7 Between 1908 and 1911, upon the recommendation of William Rothenstein, and initially with a loan from the Jewish Education Aid Society, he attended the Slade School of Fine Art, the youngest Jewish, working-class student of his generation to do so.8 Although largely isolated from the other Whitechapel Boys who followed him, he was part of the notable "crisis of brilliance" generation which also included C.R.W. Nevinson, Stanley Spencer, Paul Nash, and (Dora) Carrington.9 He twice won the Slade scholarship, gained a number of prizes for drawing and painting, and left with a British Institution scholarship in 1912.
DOI
At the Slade, Gertler's style was honed by the famous teaching triumvirate of Fred Brown, Henry Tonks, and Philip Wilson Steer. Tonks, the dominant personality, was profoundly influenced by the art of the Italian Renaissance and "encouraged a style that drew on the great European tradition of drawing of meticulous observation and flawless line work", urging his students to frequent the British Museum and the Victoria and Albert Museum print rooms and to make copies at the National Gallery.10 After 1910, Gertler was encouraged by his tutors to attend part-time and to concentrate on Jewish subjects, such as Talmudic Discussion, also completing a student portfolio of accomplished family portraits, occasionally of both parents, often of his siblings (Deborah, Harry, Sophie, and Jack), but always centred on his mother, Golda. The Artist's Mother (1911) represents the culmination of the traditional, naturalistic style developed at the Slade. After exhibition at the New English Art Club (NEAC), the portrait was purchased in December 1912 by the rising collector Michael Sadler, educationalist and vice-chancellor of Leeds University (1911–1923) and loaned to the Tate.11
DOI
Sadler, whose enthusiasm for modern art dated back to 1909, had begun during this period to amass "one of the largest and most progressive private collections of contemporary paintings of any British collector".12 In addition to a wide selection of works by British artists including Steer, Augustus John, and other NEAC members, in 1911, he purchased The Abandoned House (1878–1879), the first Cézanne painting to enter a British collection, as well as five important Gauguins including The Vision after the Sermon (1888) and works by Kandinsky and Picasso. In November 1911, he sponsored the exhibition Cézanne and Gauguin at the Stafford Gallery, managed by John Neville, showcasing many of his recently acquired works.13 Sadler became a key patron of young British modernists (including Kramer) and an important promoter of modernism in Leeds. Upon his death in 1943, his collection numbered over 1,200 pieces.14 When Gertler wrote to thank Sadler for his purchase in November 1911, he admitted that what pleased him most was that his own work would "actually 'rub shoulders' with those wonderful pictures I saw at your house."15
DOI
The effect of this exposure, combined with the impact of Roger Fry's two groundbreaking post-Impressionist exhibitions in 1910 and 1912, caused a radical new direction in Gertler's art. Looking back in 1932, he recalled "the entry of Cézanne, Gauguin and Matisse upon my horizon as equivalent to the impact of the scientists of this age upon a simple student of Sir Isaac Newton."16 By 1912, Gertler had abandoned the earlier earth-toned palette favoured by the Old Masters, particularly, Rembrandt, 17 and his youthful mentor, William Rothenstein, whose Reading the Book of Esther (1907)18 had directly inspired Gertler's early Jewish picture, Talmudic Discussion (1911),19 but as late as February 1912, in an interview, he reiterated his adherence to the Old Masters with Augustus John, the only "modern" whose influence he allowed.20
DOI
By September 1912, as his much-quoted letter to fellow artist and muse Dora Carrington suggests, Gertler's awareness of the competing demands of modernism had also increased his own ambivalence towards it:
So I went out and saw more unfortunate artists. I looked at them talking art, Ancient art, Modern art, Impressionism, Post-Impressionism, Neo-Impressionism, Cubists, Spottists, Futurists, Cave-dwelling, Wyndham Lewis, Duncan Grant, Etchells, Roger Fry! I looked on and laughed to myself saying, "Give me the Baker, the Baker," and I walked home disgusted with them all, was glad to find my dear simple mother waiting for me with a nice roll, that she knows I like, and a cup of hot coffee. […] You, dear mother, I thought, are the only modern artist.21
DOI
The fairground horses in Gertler's finished Merry-Go-Round canvas bear little relation to those in this preliminary study. In the final painting, the flag is omitted, the canopy reduced, and the horses—now much larger—are fully realized: joined nose to tail, they plunge forwards, their hind legs kicking out like rifle butts, and their teeth bared. The whirling horses frozen in motion and the mouths of their riders opened in a never-ending scream offer a pacifist vision of cultural disintegration with one of personal despair at Gertler's unhappy affair with Carrington. The interest in machinery shows an awareness of Futurism and Vorticism, possibly influenced by Bomberg, whose large-scale work it approached in size and ambition, but also Nevinson's insistent rhythms in his military paintings including Returning to the Trenches (1914–1915), which was prominently displayed at the London Group in March 1915, and the terse, concentrated image of modern trench warfare, La Mitrailleuse (1915), first exhibited in March 1916. The striking palette of orange, yellow, red, and blue hues contributes to the painting's violent energy. Andrew Causey has pointed out that the intensity of the colours in Gertler's palette are "unlike those […] found in most British painting of the period", with the possible exception of Wyndham Lewis.65
DOI
Surface examination and elemental analysis have confirmed that the underlying painting was also strongly coloured: the carousel's top was painted in stripes of cadmium yellow and vermilion. The flag—not present in the final Tate version—is also painted with vermilion and has a texture suggesting a motif that can no longer be read. Prussian and cobalt blues have been used for the sky together with iron oxide yellow ochre and sienna-coloured paints; bone black was used to outline the features in the composition.
DOI
The overlying landscape is painted using viridian and iron oxide pigments mixed with lead white. The paint is applied quickly and blended wet-in-wet in many areas. There is red showing through from the underlying composition in the same mid-ground area of the sienna-coloured tree stump on the landing or island present in the better-known Leeds Art Gallery version of the composition. The largest tree has been broadened to cover the underlining sky paint that was part of the composition below. Both the red stump and broad tree are replicated in the Leeds picture, The Pond at Garsington, Oxford (1916), though, in the larger work, red is applied over the green paint. On the panel, the same effect is achieved using a different technique, by allowing red to show through from the underlying paint of the carousel below.
DOI
The conception of the Leeds version is documented in the artist's letters, which shows that it was begun in mid-July 1916.66 Letters among Gertler's friends discuss the planned purchase of the picture by the artist's patron, the barrister and collector Sir Montague Shearman (1885–1940), who deeply admired it.67
DOI
On the reverse of The Pond, Garsington is a rapidly executed sketch of the figure of Gertler's friend, Gilbert Cannan, the writer whose roman à clef, Mendel, based on Gertler's early life, caused a storm upon publication in 1916.68 The paint contains a mixture of Prussian blue and lead white for his jacket and bow tie, iron oxide red and lead white for his flesh, and lead white alone for the trousers. The placement of the figure conforms to Cannan's posture and positioning within the final finished painting. The panel support for The Pond, Garsington is an unprimed piece of wood that was not specially prepared for artists' use and may instead have been taken from a piece of old furniture. It is possible that this panel was used to plan elements of Gertler's larger paintings, as is the case with both Merry-Go-Round and Gilbert Cannan and his Mill. The Pond, Garsington may also be a study for the very large Cézannesque painting Bathers (1917–1918), which after Merry-Go-Round, was, in terms of scale, Gertler's most ambitious painting of the decade. The "Vorticist"-style treatment of the sky in The Pond on small panel also mirrors exactly the pattern of the clouds and sky in the later painting. Marks in the paint along the long edges of the panel may indicate that it was clamped during the painting out of doors of the uppermost composition, and then later trimmed for neatness. It is clear that Gertler made the painted sketch in preparation for the larger Merry-Go-Round, which shows many changes from this preparatory version, then later reused the panel and overpainted it with the view of Garsington. This finding raises the question of whether there are other preparatory works or versions that are now overpainted with later compositions.
DOI
Gertler began his portrait of Gilbert Cannan and his Mill in 1915, put it aside temporarily to concentrate on a commissioned portrait of Michael Sadler (1915), and then carried out separate studies of the chestnut tree (now lost) for Gilbert Cannan and his Mill, before finally completing the portrait in April 1916. As in Family Group and Rabbi and Grandchild, Gertler sometimes extended his canvas supports while overpainting or altering an image, and also added a strip of canvas to the lower edge of the canvas of the Cannan painting presumably to accommodate the extension of the mill, the figure of Cannan and his dogs in the foreground.
DOI
Unresolved Investigations
DOI
Still Life with Self-Portrait (ca. 1918) has traditionally been dated to April 1918, based on a series of letters written by the artist between the spring and autumn of that year. It is, therefore, assumed to have been painted in Penn Studio, 13a Rudall Crescent, Hampstead, where the artist worked from January 1915 to 1932. On 2 April 1918, Gertler wrote to fellow artist Richard Carline that he had:
started a plan of a large self-portrait, seen in my big mirror, with many reflections behind, and my revolving bookcase, supporting a cerulean vase in front of the mirror. It is an interesting though complex subject, and in spite of it being so pleasant here [at Garsington], I am longing to get back to get on with it.69
The Leeds work, however, although it does show "many reflections behind", contradicts this account in a number of ways: it is not a large- but a standard-sized work; it was observed in a small, convex mirror, not a large one; and there is a glass flask or jug but no cerulean-coloured vase.70 Moreover, no mention is made of either the other still-life objects (apples in a bag and a candlestick) in the foreground of the composition, nor of the Japanese print prominently displayed on the wall behind the mirror. Unlike the majority of Gertler's still-life props, which recur consistently in his paintings, this print appears uniquely in this work.71 However, the other still-life elements can be found in works both before and after this date, for example, a similar glass flask can be found in Talmudic Discussion (1911) and a similar arrangement of apples in Apples in a Bag (1921).
DOI
Compositionally, Still Life with Self-Portrait shares the device of using a convex mirror to show the artist at work with William Orpen's Mirror (1900) and both reference Van Eyck's Arnolfini Portrait (1434), which also uses a convex mirror to reveal the artist at work.72 The artist's own appearance with short hair and a thick fringe is consistent with his appearance from circa 1914 onwards. A portrait of a single female figure in black, such as found in Gertler's early Slade work, can just be glimpsed on the easel behind.
DOI
Gertler's letter to Dorothy Brett three weeks later, reporting on the progress of Still Life with Self-Portrait, raises further questions:
It goes well so far. It is a very complex subject and very interesting and unusual. If this comes off at all well, I shall treat it as but a study for a much larger—in fact, huge canvas, which I want to do of the same subject, since in this canvas I had to sacrifice much background which is most important to the whole character of the subject. The canvas I am working on is the same size as my Fruit Stall.73
The Fruit Stall (now lost), a work painted in 1915, and praised by the artist's contemporaries Wadsworth, Duncan Grant and Clive Bell, presumably for its modernist qualities, has been variously described as "big" and "vast" in scale.74 However, the complex but traditional Still Life with Self-Portrait measures only 50.8 x 40.6 cm, further casting doubt on the likelihood that the letter quoted above refers to this particular work.
DOI
Another unresolved question in Still Life with Self-Portrait is which of the artist's studios is depicted? The interior in the painting, seen in reflection in the convex mirror, has large, floor-to-ceiling windows (their reflection can also be seen in the round-bellied glass flask in the foregrounded still-life arrangement), cream-painted panelled walls, a naked light bulb and bare floorboards. The windows conform to those seen in the background of a photograph of Gertler's former model, Mrs Dora Venn, taken many years later in Gertler's Elder Street studio in Spitalfields, which Gertler occupied from 1912–1914. Although many works were painted there, few reveal much of the interior, for example, Penn Studio (1915) shows only a corner of Gertler's studio bedroom (in the upper gallery) lit by sky lights. A visit by the authors to Penn Studio (now privately occupied and therefore not photographed or discussed in detail) in 2018, confirmed that it does not have floor-to-ceiling windows. This discrepancy, therefore, also the possibility of an earlier date and that the above correspondence relates in fact to a later self-portrait also painted in Penn Studio.
DOI
Further correspondence, however, makes it clear that Gertler continued to work on a version of "the mirror picture" throughout May,75 and again in October, when he recorded "a big change in the composition and thoroughly exhausted myself. Today I am too tired and nervous to work. I may rest some days. God knows when it will be finished now."76 At the end of the month, he put "my self-portrait aside, whether permanently or only for a time, I don't know […]."77 In November, he observed:
I have not yet returned to my Self-Portrait. I don't know if ever I shall again. I am in quite a different mood now, but I have done a charcoal study [not traced] for it, and may commence a painting any moment, but the idea is so vague in my mind that I hardly have hopes of it as yet.78
DOI
An X-radiograph suggests that the standard-sized commercially primed canvas, which carries the artist's supplier's "Reeves and Sons" stamp on the reverse, was reused for the current composition (Fig. 20).79 The canvas was probably turned at 90 degrees to the initial composition, which is characterised by horizontal brush marks and spherical shapes, perhaps indicative of fruit in a still life. It is not clear which way up the underlying composition would have been orientated. Paint cross sections showed that the uppermost composition is relatively thinly painted, directly over the first image after it had fully dried and without another ground preparation in between. The paint in the underlying composition contains emerald green and lead white pigments. Upper paint layers include vermilion and lead white for the pink of the clothing and the flesh of the Japanese Warrior depicted in the print on the studio wall, with black paint beneath and for the Warrior's hair that contains bone black. The dark paint of the curtain in the background is painted using bone black and emerald green and the fruit using barium chromate yellow and yellow ochre. These results, while adding to our technical knowledge, do not allow us to firmly date or situate the painting. Thus, for the time being, we have to accept the original date of 1918, although it remains unproven, and we hope that further investigations including further technical analysis on other contemporaneous work, may help to resolve this at a later date.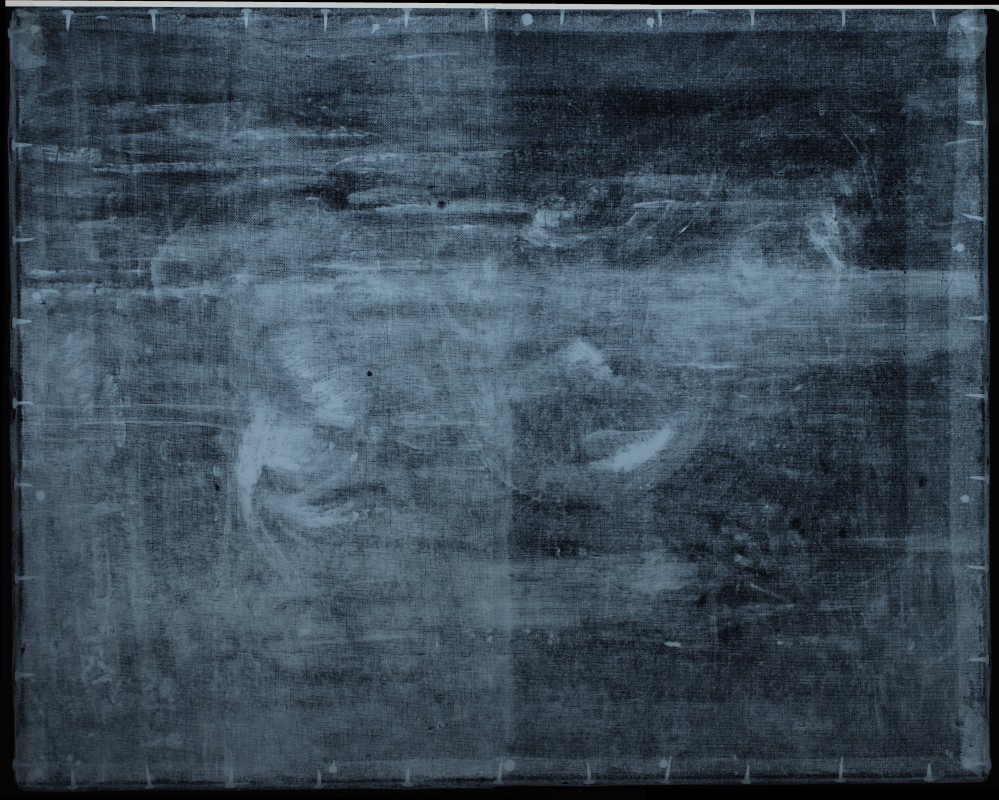 DOI
Props
DOI
As mentioned above, Gertler had a set of preferred studio props that recur in his paintings. These include a red headscarf with white spots that Golda wears, for example, in The Artist's Mother (1913); a similar headscarf, this time white with red spots, was depicted in the double-portrait of his parents The Apple Woman and her Husband (1912). One of these two scarves is worn by Golda in Jewish Family and by Anne in Family Group, although in both later paintings the white spots have been touched out in solid red; they appear in an X-ray image of the painting. This compositional change together with the over-painted figure may have derived from a desire to simplify the image and focus on contrasting planes of colour—a clear development away from the decorated and textured surfaces and brown palette of earlier paintings like Talmudic Discussion.
DOI
Other props include apples, the most traditional of still-life elements, but also a recurring motif probably of personal significance to Gertler, who lived near Spitalfields market. Paintings of apples punctuate his oeuvre and can be found in several key works, particularly those for which members of his family modelled, including Family Group and The Artist's Brother Harry Holding an Apple. Although his father was a furrier and was joined in this business by Gertler's two older brothers, there is only one portrait of his father by this title (now lost); and an early portrait of his mother wearing fur, but many including The Apple Woman and her Husband (1912), in which they are painted with apples. Other still-life elements include a necklace with red beads worn by Dora Plaskowsky in Rabbi and Grandchild and by his sister Sophie in Portrait of a Girl (1912); a shorter string of red beads worn by his mother, Golda, in the above-mentioned double-portrait of his parents, appears alongside two sets of apples.
DOI
Examination of the paint used for this group of works shows that Gertler was surprisingly consistent in his choice of coloured pigments throughout this period. His palette included viridian and emerald greens, cobalt and Prussian and French ultramarine blues, chrome and cadmium yellows, vermilion and a range of red, brown, and yellow iron containing pigments. He used lead white exclusively—in preference to zinc white—and bone black. Many coloured pigments are used in Talmudic Discussion for details of the cloth and the embroidered fabric, while the overall brown palette, characteristic of his early paintings, was dropped in some compositions in later works, where pure colour was used unmixed or mixed only with white to give a more vivid effect. Planes of colour are juxtaposed with minimum texture and flat application in Family Group to vibrant visual effect. Similarly, colour contrasts and flat planes are used in the Fruit Sorters. Close examination and study of the paint layer structure for both these paintings suggests that a traditional painting technique was used for drapery painting, with laying in an opaque underlayer followed by a transparent glaze. The technique of dead colouring was learned by most British painters in the eighteenth century and may still have been taught at the Slade in the early twentieth century or may alternatively have derived from Gertler's admiration of quattrocento Italian painting and the techniques used by these masters from direct observation in the National Gallery. For biblical subjects, such as The Creation of Eve, Gertler used a more subdued palette, and his views of the gardens at Garsington, in the works chosen for study, are similarly simplified, subdued in tone, and utilise a narrow range of pigments. Contrastingly, for Gilbert Cannan, the paint is applied more freely. The final surface of this work and others that were painted over underlying compositions varies in texture (it is unlikely that Gertler intended the underlying composition to be visible in the final composition). Gertler's use of unprimed supports presented a more textured surface than in either his works on panel or primed canvas for landscape, still life, or figure painting, suggesting that this aspect was less important to him in this period than other painterly goals.
DOI
In conclusion, this combined approach of technical and art-historical analysis has served a dual purpose: first, in uncovering hitherto unknown underpaintings which provide visual evidence to support written sources and/or reveal further clues on Gertler's journey towards the modern; and second, in allowing a greater understanding of the methods employed upon this journey. The underpaintings show not only how frequently Gertler reused his supports but also point to a rapid aesthetic development within this period, particularly in the key years of 1913 and 1916, supporting the commentary in his letters. The overpainting in 1913 points to an intention towards greater simplification, also apparent in his compositions, in line with post-Impressionist influences. In 1915–1916, however, it indicates a deeper engagement with contemporaneous modernism commensurate with both personal, wider political, and artistic concerns. Although we still cannot map all the stages leading to Merry-Go-Round, the hidden oil sketch supports the idea of a long period of gestation in which initial ideas were worked out preparatory to the final painting. Gertler's materials are also consistent with these developments—his earlier earthy palette brightening under the influence of post-Impressionism as his technique became increasingly experimental.
DOI
In the years immediately following those explored in this study, Gertler was influenced particularly by Cézanne and Renoir, and then, in the late 1930s by Picasso and Juan Gris, demonstrating that his engagement with modernism, while neither immediate nor linear in his early works, was nonetheless significant and ongoing. Gertler's surviving notebooks for his last decade discuss his experimentation with materials and technique,80 also citing his discussions with the influential German art restorer Helmut Ruhemann (1891–1973), a refugee from Nazism who settled in England in 1934 and later set up a studio in St John's Wood.81 A photograph from Lady Ottoline Morrell's album (ca. 1934), showing Gertler, his wife Marjorie, Ruhemann, and Philip Hendy (later director of the National Gallery) taking tea together in the garden, is further proof of this relationship. This points to a deepening interest in experimental techniques in Gertler's later years, following the general rappel à l'ordre in the 1920s, and a second engagement with the modern in Gertler's final period, worthy of greater study but outside the scope of the current paper.
DOI
Acknowledgments
DOI
We would like to thank all our lenders, partners, and facilitators who assisted with this project: Jevon Thistlewood (Conservator), the Ashmolean, Oxford; Ben Uri Gallery and Museum; the Department of Prints and Drawings, the British Museum; the Courtauld Institute of Art; David Hare; the late Luke Gertler and the Luke Gertler Estate; Nigel Walsh (Curator), Leeds City Art Gallery; Simon Lake (former Curator), New Walk Art Gallery, Leicester; Matthew Travers (Director) and Dr Robert Travers (Executive Chairman), Piano Nobile; Clare Mitchell (Curator) and Rebecca Moisan (Conservator), Southampton City Art Gallery; Jenni Spencer-Davies (Curator), Ellie Dawkins (Documentation Officer) and Jenny Williamson (Conservation and Collections Officer), Glynn Vivian, Swansea; Annette King and Rebecca Helen (Conservators), Tate; as well as all our private lenders who prefer to remain anonymous. We also gratefully acknowledge the support of a small grant from the British Academy.
About the authors
Professor Aviva Burnstock is Head of the Department of Conservation & Technology at the Courtauld Institute of Art, London, where she took a PhD (1991) and a Postgraduate Diploma in the Conservation of Easel Paintings (1984). She was a Joop Los Fellow at the Institute for Molecular Physics (FOM/AMOLF) in Amsterdam, Netherlands (2003–2005). In 1986–1992, she worked in the Scientific Department of the National Gallery, London after a year as a conservator in Australia with the Regional Galleries Association of New South Wales. She has a BSc. in Neurobiology from the University of Sussex, England. She has published widely in the field of painting techniques and materials and aspects of conservation practice.

Sarah MacDougall (MA, University of Reading) is Head of Collections and the Ben Uri Research Unit for the Study of the Jewish and Immigrant Contribution to the Visual Arts in Britain since 1900. Her exhibitions include Alfred Cohen: An American Artist in Europe (upcoming, 2020); Jankel Adler: A "Degenerate" Artist in Britain, 1940–1949 (2019), Bomberg (2017–2018), "Uproar!": The First 50 Years of The London Group (2013), and Forced Journeys: Artists in Exile, 1933–45 (2009–2010). Sarah is author of a biography of Mark Gertler (London: John Murray, 2002), a Gertler catalogue raisonné in progress (Yale University Press), and she guest curated the Gertler room at Tate Britain (2019).
Bibliography
Abrams, R. (2017) "Gilbert Cannan and his Mill, Mark Gertler". The Jewish Journey: 4000 Years in 22 Objects. Oxford: Ashmolean.
Blewett, M. (2019) "Refugee Picture Restorers in the United Kingdom". In Monica Bohm-Duchen (ed.), Insiders/Outsiders: Refugees from Nazi Europe and their Contribution to British Visual Culture. London: Lund Humphries.
Boyd Haycock, D. (2007) "'A Crisis of Brilliance': C.R.W. Nevinson, Henry Tonks, and the Slade School of Art, 1909–12". In Michael Walsh (ed.), A Dilemma of English Modernism: Visual and Verbal Politics in the Life and Work of C.R.W. Nevinson (1889–1946). Newark, DE: University of Delaware Press, 36–46.
Cannan, G. (1916) Mendel: A Story of Youth. London: T. Fisher Unwin Ltd.
Carrington, N. (ed.) (1965) Mark Gertler: Selected Letters. London: Rupert Hart-Davies.
Causey, A. (1987) "Formalism and the Figurative Tradition in British Painting". In Susan Compton (ed.), British Art in the Twentieth Century. Munich: Prestel.
Causey, A. (1992) "A Certain Gipsy Gaudiness: Gertler after the First World War". In Mark Gertler: Paintings & Drawings. London: Camden Arts Centre.
Chambers, E. (2012) "Jewish Artists and Jewish Art". In Lizzie Carey-Thomas (ed.), Migrations: Journeys into British Art. London: Tate Publishing.
Clarke, G. (ed.) (2016) The Diaries of Randolph Schwabe, British Art 1930–48. Bristol: Sansom & Company.
Fraser Jenkins, D. (1989) "Slade School Symbolism". In John Christian (ed.), The Last Romantics: The Romantic Tradition in British Art: Burne Jones to Stanley Spencer. London: Lund Humphries in association with the Barbican Art Gallery, 71–76.
Garnett, D. (ed.) (1990 [1970]) Carrington: Letters and Extracts from her Diaries. Oxford: Oxford University Press.
Gertler, M. (1912) "A Triumph of Education Aid". Jewish Chronicle, 9 February.
Gertler, M. (1932) "Interview". Studio, no. 104, 163.
Gertler, M. (1965) "First Memories". In Noel Carrington (ed.), Mark Gertler: Selected Letters. London: Rupert Hart-Davies.
Gruetzner Robins, A. (1997) Modern Art in Britain 1910–1914. London: Merrell Holberton in association with Barbican Art Gallery.
Holroyd, M. (1996) Augustus John: The New Biography. London: Chatto & Windus.
Ludowici, A.M. (1913) The New Age 13, no. 8 (19 June), 212.
McConkey, K. (2006) The New English: A History of the New English Art Club. London: Royal Academy of Arts.
MacDougall, S. (2002) Mark Gertler. London: John Murray.
Rothenstein, J. (1984) Modern English Painters, Vol. II: Nash to Bawden. London: MacDonald & Co.
Shaw, S. (2010) "Equivocal Positions: The Influence of William Rothenstein, c.1890–1910". PhD thesis, The University of York, History of Art.
Shaw, S. (2016) "'The Ideal Behind the Real': William Rothenstein, Alfred Wolmark and the Representation of the Whitechapel Jew, c.1905". In S. MacDougall (ed.), William Rothenstein and his Circle. London: Ben Uri Gallery.
Simon, J. (n.d.) "British Artists' Suppliers, 1650–1950", https://www.npg.org.uk/research/programmes/directory-of-suppliers/y. Accessed 16 November 2018.
Smith, A. (2017) "The Pre-Raphaelites and the Arnolfini Portrait: A New Visual World". In Reflections: Van Eyck and the Pre-Raphaelites. London: National Gallery Company, distributed by Yale University Press.
Spalding, F. (1982) "Mark Gertler: The Early Years". In Mark Gertler: The Early and the Late Years. London: Ben Uri Gallery.
Steyn, J. (1994) "Inside-Out: Assumptions of 'English' Modernism in the Whitechapel Art Gallery, London 1914". In Marcia Pointon (ed.), Art Apart: Art Institutions and Ideology across England and North America. Manchester: Manchester University Press.
Steyn, J. (1992) "Mythical Edges of Assimilation: An Essay on the Early Works of Mark Gertler". In Mark Gertler: Paintings & Drawings. Northampton: Belmont Press in association with Camden Arts Centre.
Tickner, L. (2000) Modern Life and Modern Subjects: British Art in the Twentieth Century. New Haven, CT: Yale University Press.
Walsh, M.J.K. (2002) C.R.W. Nevinson: This Cult of Violence. New Haven, CT: Yale University Press.
Woodeson, J. (1972) Mark Gertler: Biography of a Painter 1891–1939. London: Sidgwick & Jackson.
Wolff, J. (1996) "The Failure of a Hard Sponge: Class, Ethnicity and the Art of Mark Gertler". In Judith Squires (ed.), "Conservative Modernity", New Formations: A Journal of Culture, Theory, Politics 28 (spring).
Unpublished Sources
Mark Gertler, notebooks, Luke Gertler Estate
Imprint
Author
Date

27 February 2020
Category
Review status

Peer Reviewed (Double Blind)
Licence
Downloads
Cite as

Aviva Burnstock, Sarah MacDougall, "Signs of a Struggle: Process, Technique, and Materials in the Early Work of Mark Gertler, 1911–18", British Art Studies, Issue 15, https://doi.org/10.17658/issn.2058-5462/issue-15/burnstock-macdougall